Hey guys,
There has been a lot of inactivity on the forums recently and I feel that it's time to put some more interest back into them. One idea is to maybe pay attention to the rides that the park used to have and to dive deep into their history and details. I don't know how frequent I'll post each update relating to each ride, but it should be a fun and nostalgic experience.
If you have any old photos that you would be willing to contribute, put send me a message. All credit will be given.

Name: Sky Ride
Stations: Rhineland and Minetown (Tower Plaza)
Max. Height: 114ft (above Comet Hollow) Could possibly be the 2nd tallest freestanding skyride in thr world.
# of Towers: 3
Cars: 30 (15 with Rhineland Theming, 15 with Minetown Theming)
Cable Grips: Made by Giovanola
Controls: Westinghouse NumaLogic controls
Motor: Volkswagen industrial engine
Tension Station: Rhineland
Motor Station: Minetown
Manufacturer: Intamin
Storage: Minetown
Length: 1268ft (1/4 mile)
Approx Ride Time: 2-3 minutes (one way).
Reason for removal: Impossible to evacuate in an emergency.
Remains:
>Rhineland
-In the one year gap between Rhineland's opening and the Sky Ride's opening, it is unknown what was at it's location.
-Rhineland Station becomes the Central Pa's Kosher Mart and prayers are held in the actual station every once and awhile.
-Exit stairs still exist
-Exit signs
-Station lights
-Sloping floor for the cars entering the station.
>Minetown
-The Minetown station exists until Fall 1996 as Tower Terrace Catering Area when it was removed for Great Bear. Nothing is left of this station.
When Sky Ride closed in 1992, the entrance stairs, queue, TVs, and catwalk were removed. Photo from the hpslappy collection.
Located near the Coal Cracker, the Minetown station had a similar theme to blend in. From the hpslappy collection.
The Sky Ride gave lofty views of Carrousel Circle, Comet Hollow, and Minetown reaching it's maximum height of 114 ft at it's second tower. From the hpslappy collection.
In this photo you can see a teaser sign in the center of the picture and the Minetown Sky Ride station shortly before it was demolished. From the hpslappy collection.
Similarly to Merriot's Great America, Hersheypark was one of the very few parks that had two ski-lift type rides. The Skyview still exists today. Photo by lilmx5guy.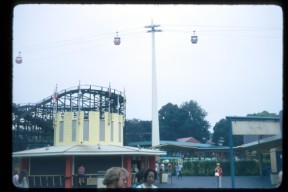 In this photo you can really compare the heights of Comet's 2nd turnaround and the height of Sky Ride's 2nd tower (114ft).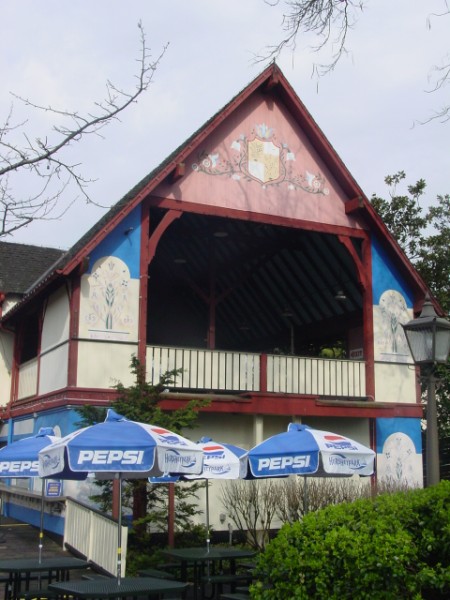 In this photo, you can see the artwork that the Rhineland station used to have. It was re-painted and given a new roof in 2008.
Here is the Rhineland station with a new paint job in 2008.
Photo taken by Hersheypark.
The exit stairs. Photo taken by Hersheypark.
The Rhineland station platform today. Photo taken by Hersheypark.
The Rhineland station platform looking out on what was it's course. Photo taken by Hersheypark.
The story on the Sky Ride didn't end in the scrap heap after it was removed. After doing some researching, it was then found to have popped up again in Thailand at Dream World Park under the name Cable Car. The cars and towers were repainted, more equipment were added to the towers, and a new control panel may have been added.
Here is a POV of the ride at it's new location (view it from 4:43).
https://www.youtube.com/watch?v=rHxv0fIXi9o
That's it for this removed ride. If more details or photos are found about any of these rides, they will be updated and announced. Join us for the next ride: Canyon River Rapids.