Found this interesting piece of information over at Screamscape today:
http://www.screamscape.com/html/hersheypark.htm
Resort News - (10/2/09) Remember back when Fahrenheit was being installed and Herseheypark kept promoting it as their 11th coaster? Well if you take a look at their home page this week you'll find this graphic, promoting the park's "10 Coasters!". Somehow I don't think they would make an error like that so easily, so I can only assume that one of the park's coasters may be on the way out. If I had to guess… I'd say that perhaps Roller Soaker's time has come. Anyone know more?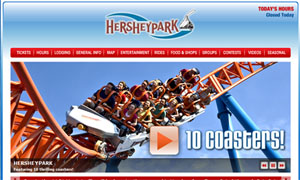 I'm wondering if this is indeed a mistake or could we be seeing the demise of Roller Soaker, as the site mentioned. It wouldn't surprise me considering that Carowinds removed Super Saturator for Carolina Cobra. Any ideas?